Destination Wedding at Fairmont, Jaipur
Fairmont is one of the most renowned five-star hotels in Jaipur. It features a lavish lobby, an elegant restaurant, and a bar from where visitors can watch the sunset. The hotel is known for its impeccable hospitality which makes it a beautiful destination wedding venue in Jaipur, Rajasthan.
Inroduction
About Fairmont Jaipur 
Fairmont Hotel in Jaipur features in some of the most happening places to organize a destination wedding in Jaipur. This 5* hotel has a luxurious lobby, a lavish restaurant, and a world-class bar.
The Secret Garden View Rooms are furnished with the finest materials and offer views of the Arawali Hills. Guests can enjoy leisurely walks through the grounds while being looked after by professional gardeners. There are also other activities on offer such as country club golf, polo lessons, horse riding, and local sightseeing tours.
A member of the prestigious 'Fairmont Hotels and Resorts' family, you can expect impeccable service and delectable fare with a local twist.
This hotel has been designed to pay homage to its surroundings and is one of India's first AAA Five Diamond Hotels. Built with traditional Indo-Mughal architecture as inspiration, it showcases an authentic Rajasthani experience with modern amenities such as high-speed Wi-Fi and international TV channels, etc…
If you are looking for a perfect luxurious location for your destination wedding in Jaipur, then don't look further than Fairmont Hotel, Jaipur.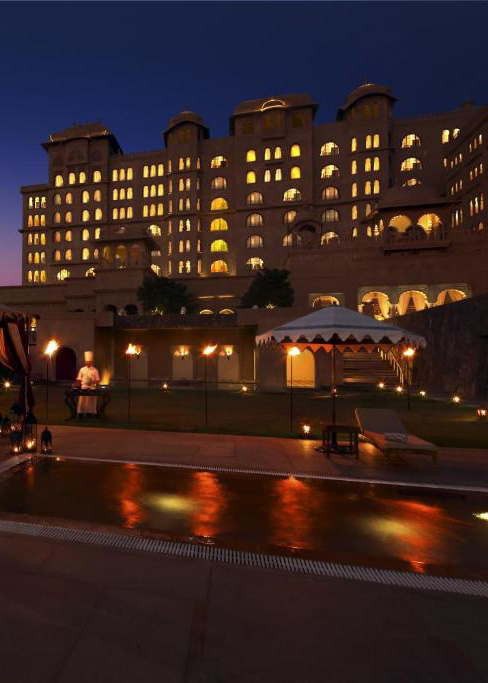 245 Rooms & Suites.  
2 multi-cuisine restaurants.
1 Bar.
2 Big Gardens for outdoor ceremonies.
Swimming Pool.
Banquet Hall.
Rajasthan traditional folk dances.
Ceremonial Welcome.
Sightseeing of Jaipur.
Fairmont Hotel has 245 luxurious rooms & suites with world-class amenities. The rooms are decorated in Rajasthani style with antique-style furniture and marble floorings.
The rooms are spacious and equipped with all amenities to make your stay comfortable & memorable. There are four types of unique suites, each with different décor.
For those interested in having their destination wedding in Fairmont, this hotel provides world-class hospitality and flawless service.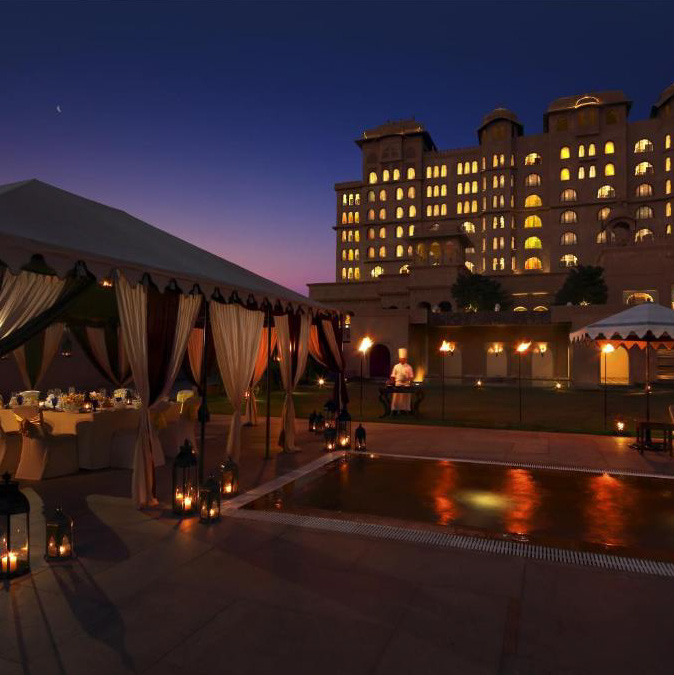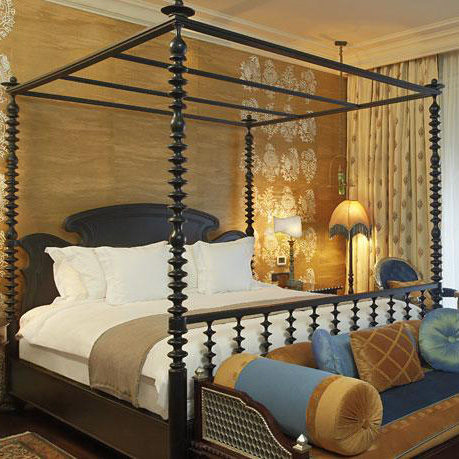 The estimated cost of a destination wedding Fairmont, Jaipur  
If you have selected Fairmont Jaipur as your destination wedding venue. Then you must be asking how much does it cost? Our destination wedding expert has come up with an estimated cost of a destination wedding at Fairmont Jaipur.
Cost of Stay at Fairmont Jaipur : 
Fairmont Hotel Jaipur offers 245 luxurious rooms & suites. The average rate per room is between 70,000 rupees to 100,000 rupees. This means for a guest list of 200 the stay would cost you around 70 lakhs to 1 crore or more for a night stay.
Cost of Food at Fairmont Jaipur : 
Here is an estimated cost of food expenses for a destination wedding at the Fairmont Hotel, Jaipur. A lunch costs between 5000 to 7000 & dinner between 9000 to 11000. So, for a guest list of 200, it would cost you around 32 lakh to 36 lakh rupees for a two-time meal.
In the above expenses, you must add the decoration charges & special events as per your choice, transportation. For a budget of around 1.6 crores to 2 crores, you can have your big day organized at Fairmont hotel, Jaipur.
The above cost is a rough idea, please contact us for precise cost as per your requirements.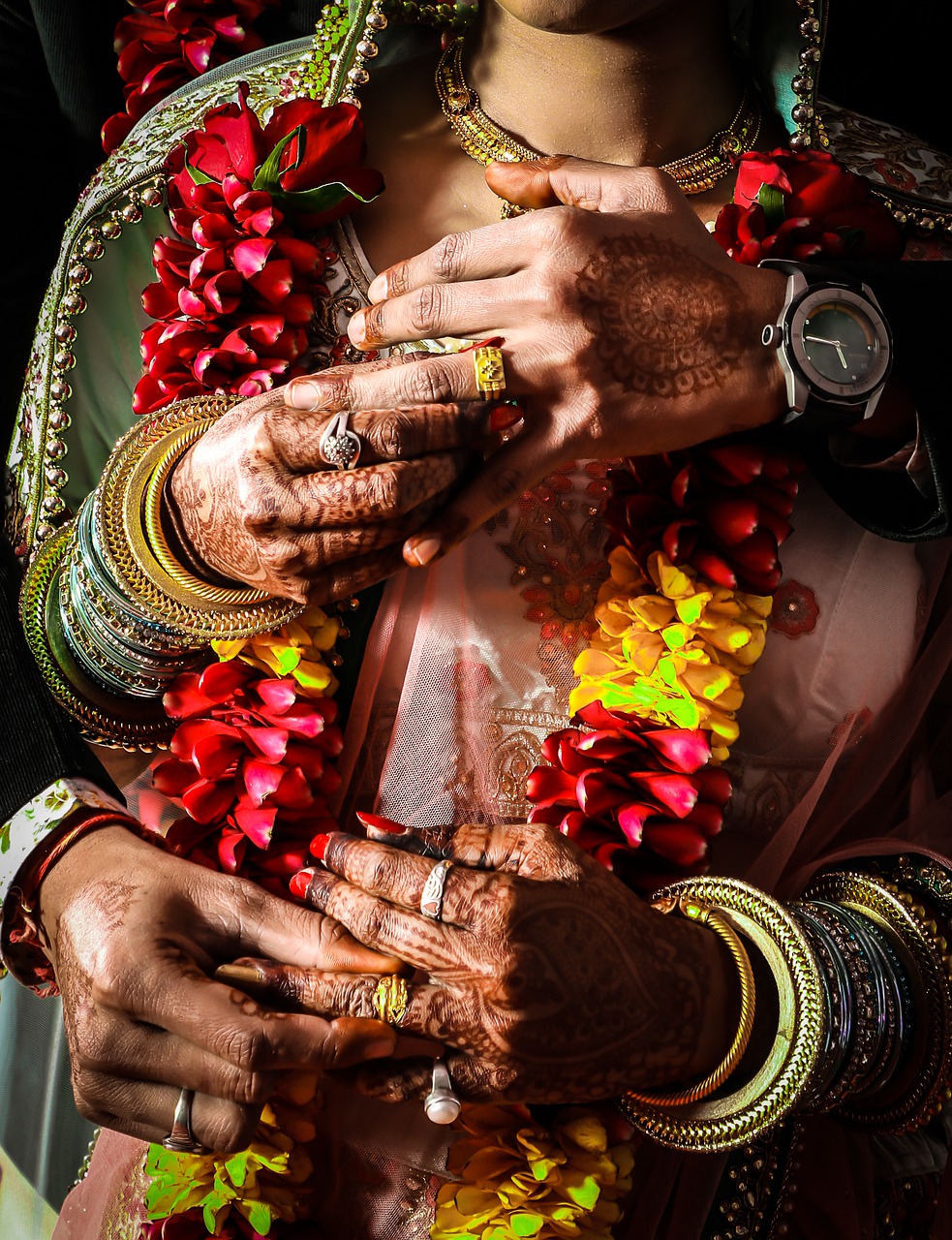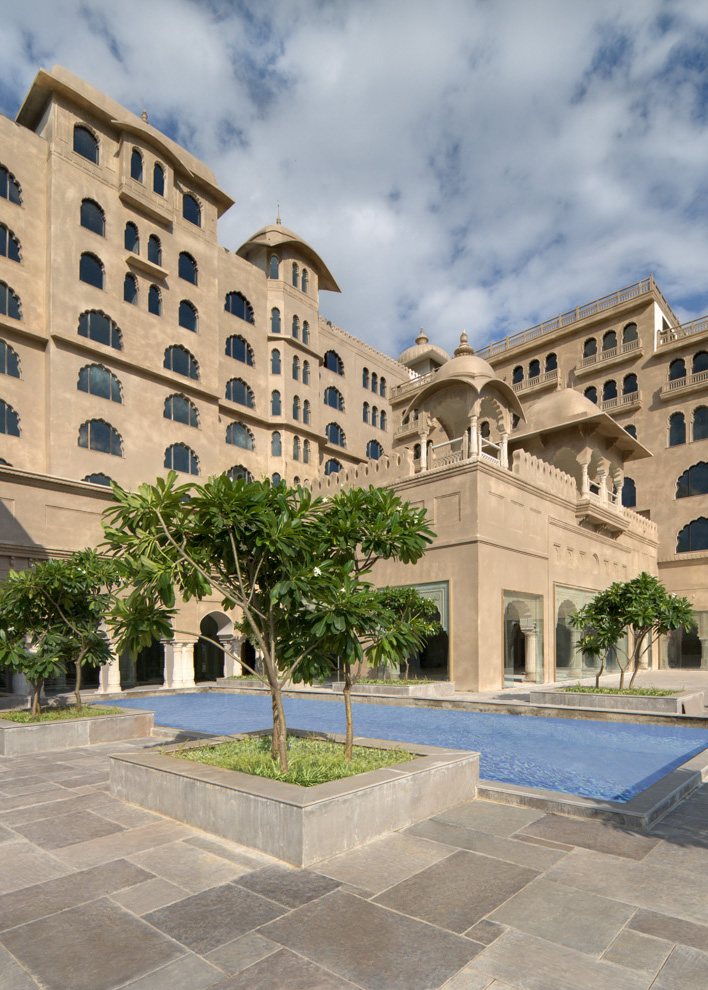 Other Destination Wedding Resorts in Jaipur
DESTINATION WEDDING PACKAGE AT FAIRMONT JAIPUR
If you are looking for a package for your destination wedding at Fairmont Jaipur. Get in touch with us and one of our experts will get back to you soon.