Destination Wedding in Jaisalmer
Jaisalmer, India's Golden City is one of the most vibrant cities in Rajasthan. A destination wedding in Jaisalmer is characterized by captivating dunes, traditional culture, and fairytale decor.
Jaisalmer, with an unforgettable blend of culture and history, is a popular destination for weddings in Rajasthan. The weddings here range from traditional Indian ceremonies to more casual western ones, with endless possibilities.
Filled with beautiful palaces, forts, and Havelis, Jaisalmer is no doubt a perfect destination wedding place in Rajasthan.
Get a fairytale feel with a destination wedding in Jaisalmer 
A destination wedding in Jaisalmer can be an unforgettable experience for those who are on the lookout for a folk tale wedding. Due to its rich heritage and culture, it promises to offer you many opportunities to create your dream wedding that you and your soulmate will never forget.
 So, if you are planning to get married at this amazing destination, then continue reading because here we have provided you with all the information regarding destination weddings venues in Jaisalmer and various other details.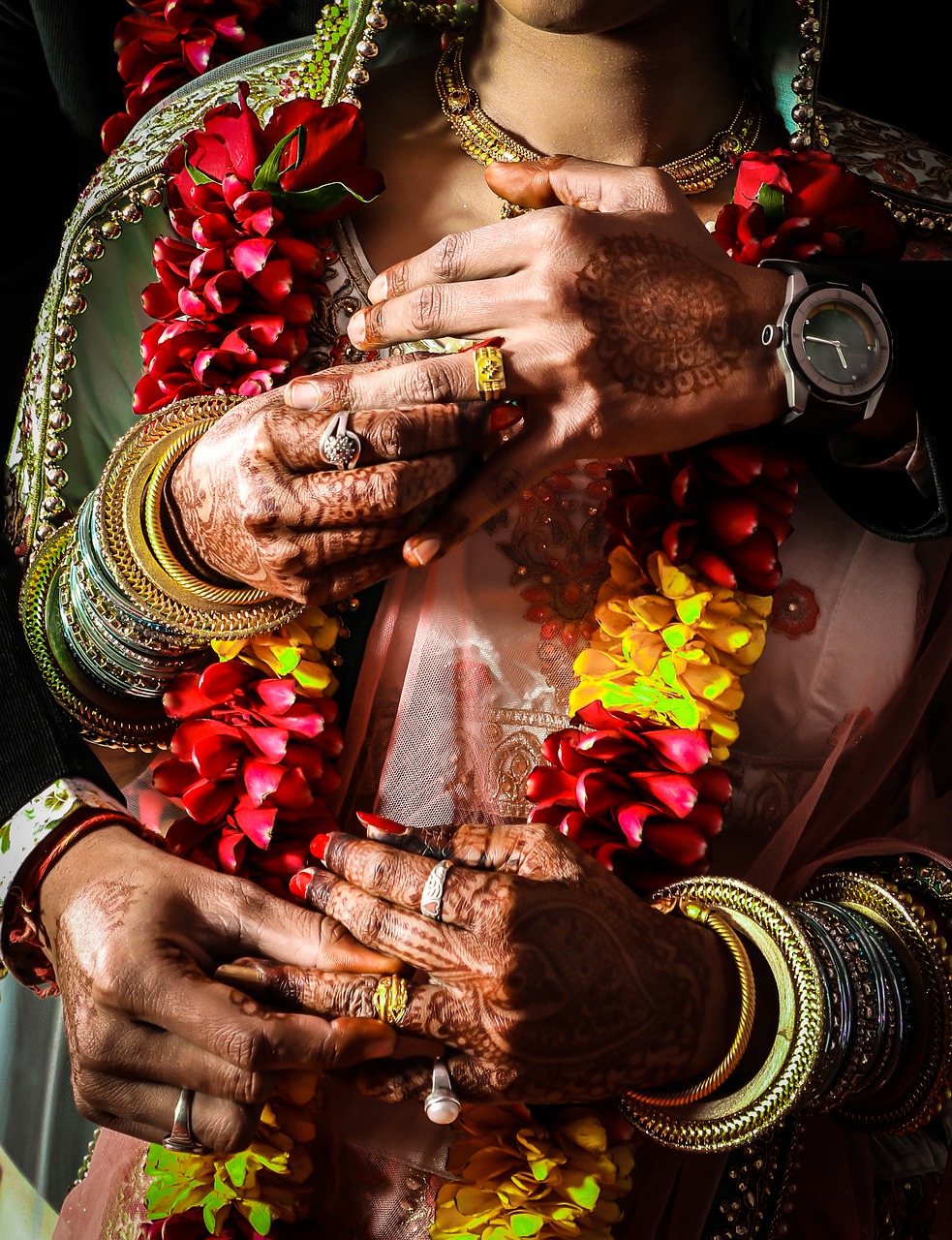 Why one should opt for Jaisalmer as their wedding destination?
The Jaisalmer Fort or the Golden Fort rests on the most striking hill in Jaisalmer and overlooks the vast expanse of the Thar Desert to the north, which makes it even more majestic and picturesque.
A destination wedding in Jaisalmer will have you and your guests traveling to the marvelous golden city, where many historical sites and hotels can be found.
Here, you can take advantage of the amazing landscapes that make up this desert city, from visiting the spectacular fort and camel ride to enjoying traditional Rajasthani cuisines.
Cost of a destination wedding in Jaisalmer
You should ensure that you can stay within your budget while planning a destination wedding in Jaisalmer. Your budget may vary while choosing your venue, discussing caterers, and booking entertainment because these all depend on your taste and preferences.
A destination wedding in Jaisalmer could start from INR 25 lakhs to 1 crore or more. However, it can be easy to lose sight of how much money you're spending along the way. Don't forget to consider all the options available along with your accounts.
21 best destination wedding venues to get married in Jaisalmer
Suryagarh Palace
A destination wedding at Suryagarh is the best way to start your married life. You can opt for either an intimate affair or a grand celebration. It is in the heart of Jaisalmer, in the Thar Desert.
The palace's traditional architecture was designed to keep cool during the searing heat of summer months. This grand palace has played host to numerous destination weddings over the years and boasts some interesting historical stories attached to its name.
Desert Tulip Hotel and Resort
Nestled in the majestic golden dunes of the Thar Desert, Desert Tulip Hotel and Resort offers dreamy wedding packages for both traditional Indian ceremonies as well as more modern receptions with hot pink flowers, silver accents, and candlelight settings inside its stunning domed hall with windows overlooking the sandy plains beyond.
The Desert Palace
The Desert Palace offers breathtaking views of the Golden City and Rajasthan's desert landscape, making it one of the most beautiful wedding venues in all of Jaisalmer. It has affordable suites and packages, air-conditioned accommodations, and delicious Indian cuisines.
If you're dreaming of an unforgettable destination wedding where you and your partner are pampered from head to toe, plan your special day at the Desert Palace today.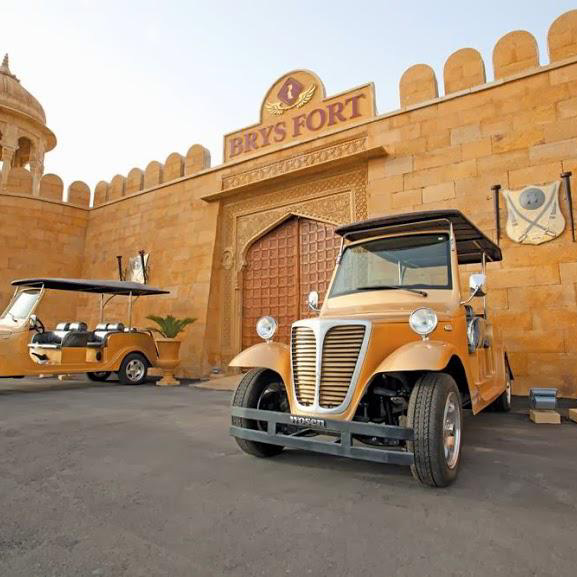 Brys Fort
The Brys Fort in Jaisalmer stands as one of the most visually striking historic sites in the country and hosts some of the most luxurious and romantic weddings ever held. With a history spanning thousands of years, and heritage accommodations available to all wedding guests, it's no wonder why the Brys Fort remains one of the most popular wedding venues in Jaisalmer.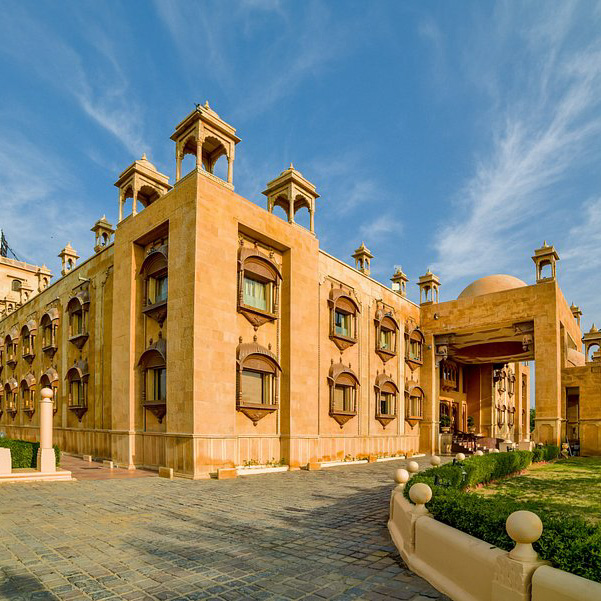 Chokhi Dhani – The Palace Hotel
If you're thinking about getting married, but aren't sure about the venue, consider a destination wedding at Chokhi Dhani – The Palace Hotel, Jaisalmer. You'll have the privacy of your desert palace, and the beauty of Rajasthan to inspire your celebration ideas.
It offers you and your guests an incomparable royal experience combined with the luxury and modern convenience that any couple would dream of.
Gorband Palace
Gorband Palace in Jaisalmer is the perfect location for a romantic and luxurious destination wedding. With abundant sun and stunning views of the Thar Desert, this elegant venue really can't be beaten.
Located on the outskirts of the desert city of Jaisalmer, it has enough space to host approx. 400 people and offer stunning views of the Thar Desert surrounding it.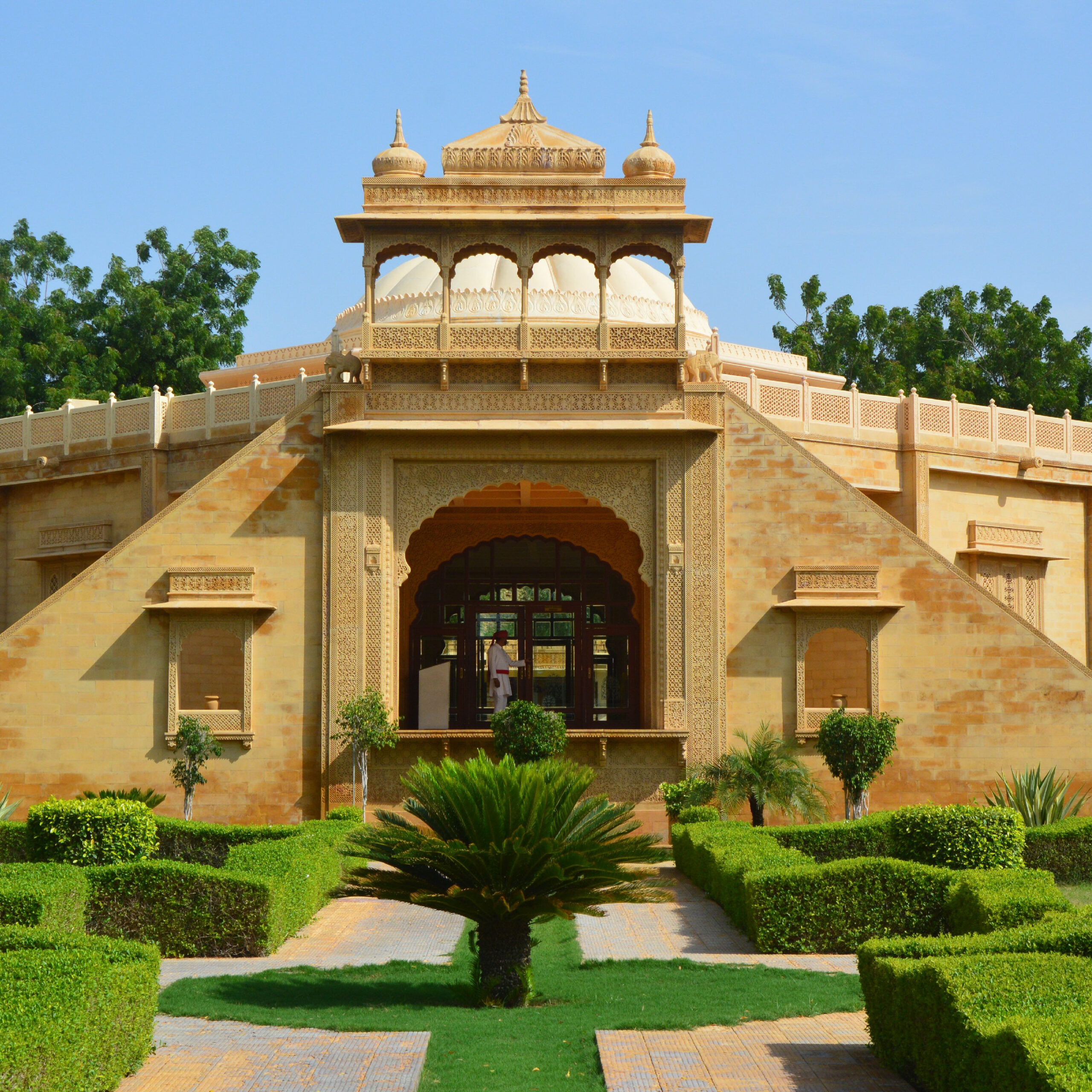 Hotel Heritage Inn
If you want to remember your wedding day forever, consider Heritage Inn, Jaisalmer as your venue. It welcomes guests with modern amenities and offers an all-inclusive package for your special day.
From excellent services to a gorgeous venue to personalized packages you can get everything you want to have for your wedding.
Himmatgarh Palace
If you're dreaming of getting married in an exotic location, then look no further than the Himmatgarh Palace, Jaisalmer. This is the place to exchange vows with your significant other in a truly unique environment that boasts rich architecture and spectacular desert views from every direction.
It is one of the most popular choices for destination weddings in the region. You can even get married under the gilded chandeliers of the wedding hall, an experience unlike any other.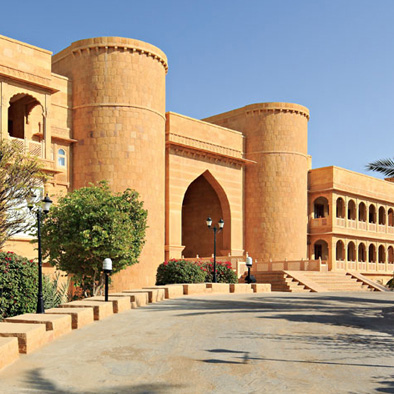 Hotel Rang Mahal
With its gorgeous location, warm and welcoming staff, and exquisite décor, it's easy to see why so many couples choose Hotel Rang Mahal as the venue for their destination wedding in Jaisalmer.
This hotel in Jaisalmer features uniquely designed rooms with intricate carved wooden decor, spectacular Rajasthani cuisines, and one of the most breathtaking views of the desert you will ever see.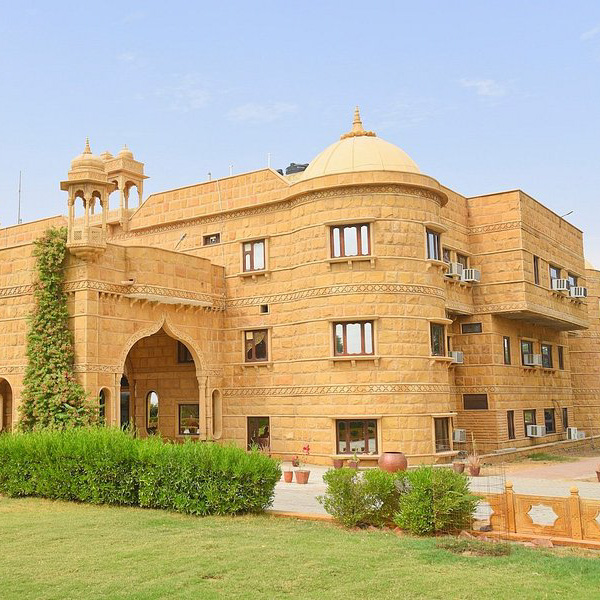 Jaisalgarh Palace
Jaisalgarh Palace is a sandstone palace in Jaisalmer. It has served as the setting for hundreds of weddings for several years, thanks to its regal appearance and fascinating desert views.
Its gardens and lawns provide the perfect setting for your Indian wedding ceremony. Once you've found the perfect wedding decorations and guest accommodations, bring your guests to one of the most spectacular wedding venues in India.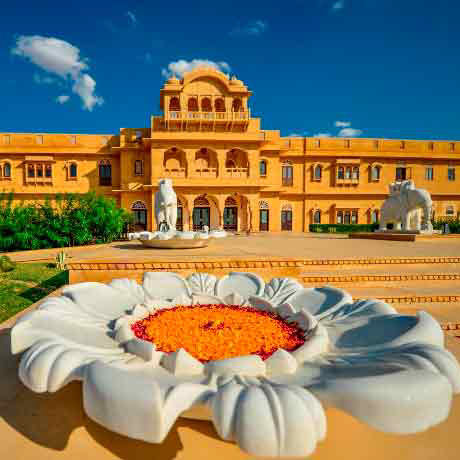 Jaisalkot Palace
The Jaisalkot Palace sits at top of a hill and offers both views of the city as well as stunning mountain vistas. If you're looking for a truly memorable place to celebrate, this might be just what you need.
It is an unforgettable destination wedding venue that offers stunning luxury accommodations, top-notch facilities, and exceptional services to help ensure your big day goes smoothly and is truly one to remember.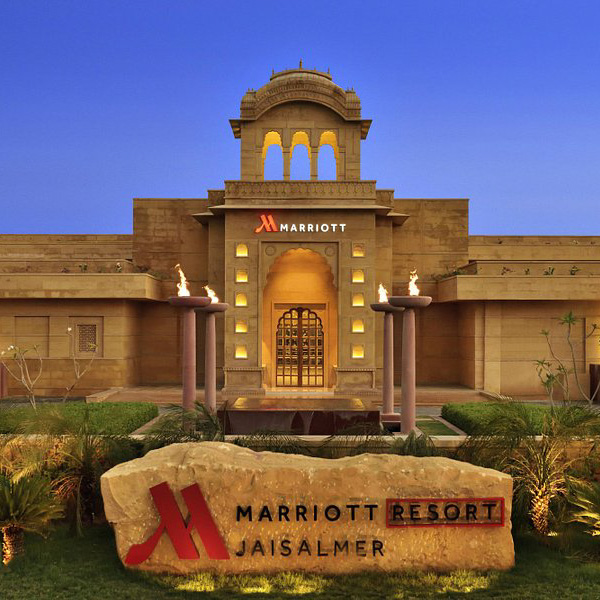 Jaisalmer Marriott Hotel and Resort
If you are looking for stunning architecture and luxurious amenities in one of the most breathtaking destinations in India, luckily, Jaisalmer Marriott Hotel and Resort provides all these conveniences so you can focus on what matters most on your big day.
If you want a 5-star destination wedding in Jaisalmer, then Marriott Hotel and Resort is the place for you.
Jawahar Niwas Palace
If you host your wedding in a historical palace and want to impress everyone, you can't do much better than a destination wedding at Jawahar Niwas Palace.
The traditional palace architecture, sprawling grounds, and the dunes of the Thar Desert are sure to be an unforgettable backdrop for your special day. You can have your ceremony and reception in the ballroom or outside on the manicured lawns or in one of the gorgeous courtyards.
Lalgarh Fort
Lalagarh Fort has served as an important landmark in the city of Jaisalmer. The fort stands guard over the desert city of Jaisalmer, welcoming visitors and locals with its majestic architecture and brightly colored style.
It's no wonder that this fort serves as one of the most popular locations in Jaisalmer to host a destination wedding. Its proximity to Jaisalmer allows guests to enjoy all that this desert city has to offer while keeping them within easy reach of its expansive areas of natural beauty.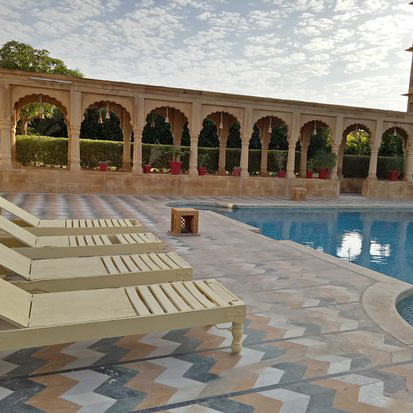 Mahadev Palace
One of your options is getting married at Mahadev Palace Jaisalmer, a mid-category hotel that offers breathtaking views of the Thar Desert.
Mahadev Palace allows you to enjoy all that this desert city has to offer while keeping your budget within the limits.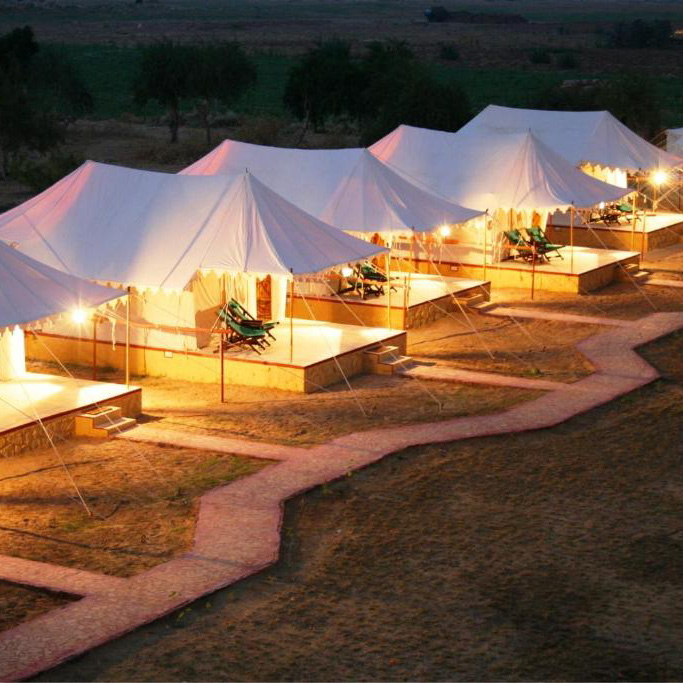 Mirvana Nature Resort
Mirvana Nature Resort is surrounded by dunes and the pristine Thar Desert, the resort is the perfect place to experience India's culture and the tranquil desert life of Jaisalmer on your fairy tale wedding.
The resort offers an impressive array of services, including lodging options that range from luxury tents to more affordable domed-shaped safari tents, dining facilities with lavish meals, traditional Rajasthani cuisine, and much more.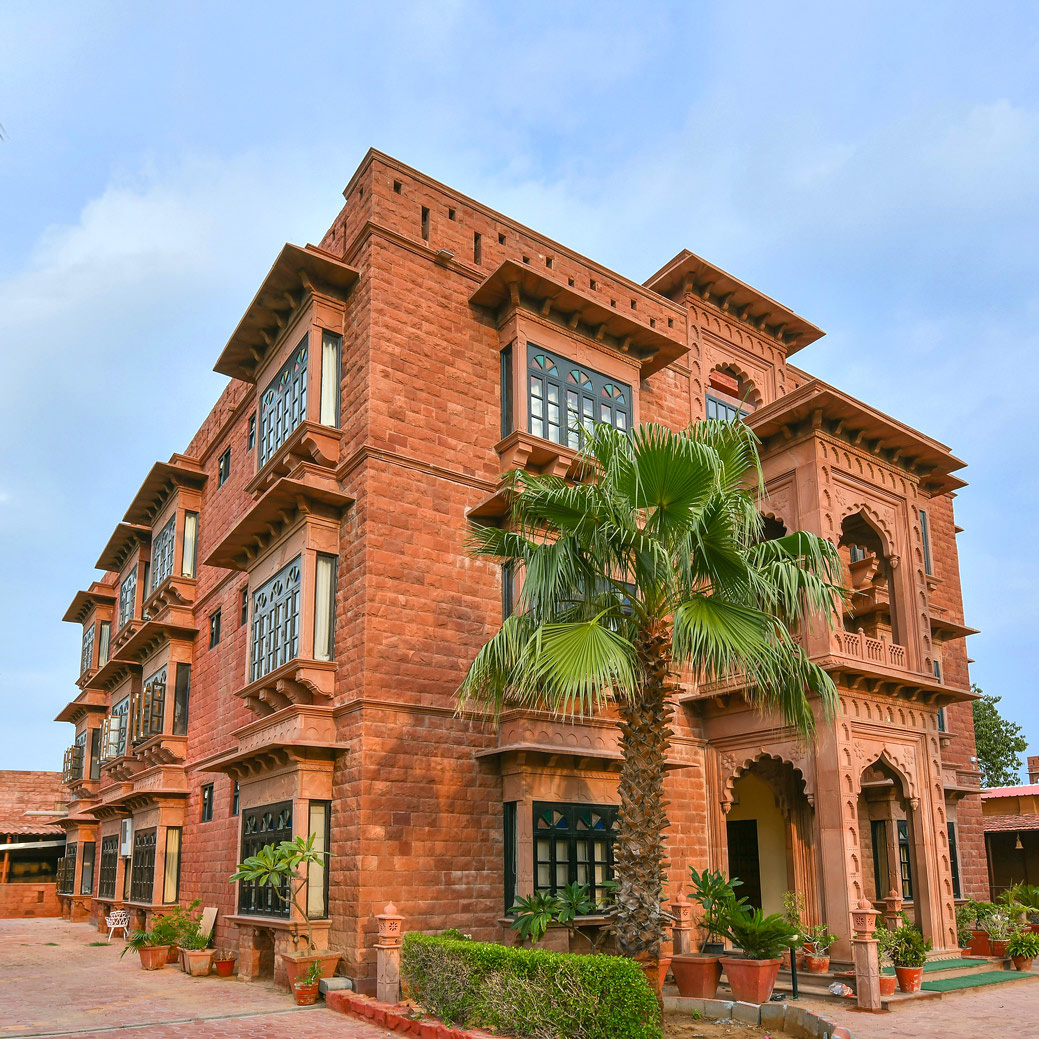 Nachna Haveli
Nachna Haveli, Jaisalmer has been winning over couples with its unique destination wedding offerings for some time now.
One of the most beautiful Havelis in Jaisalmer, it's the perfect location to tie the knot in style and create memories to last a lifetime.
It offers customizable packages that allow couples to choose exactly what they want without any extras, which helps cut down on wedding costs significantly.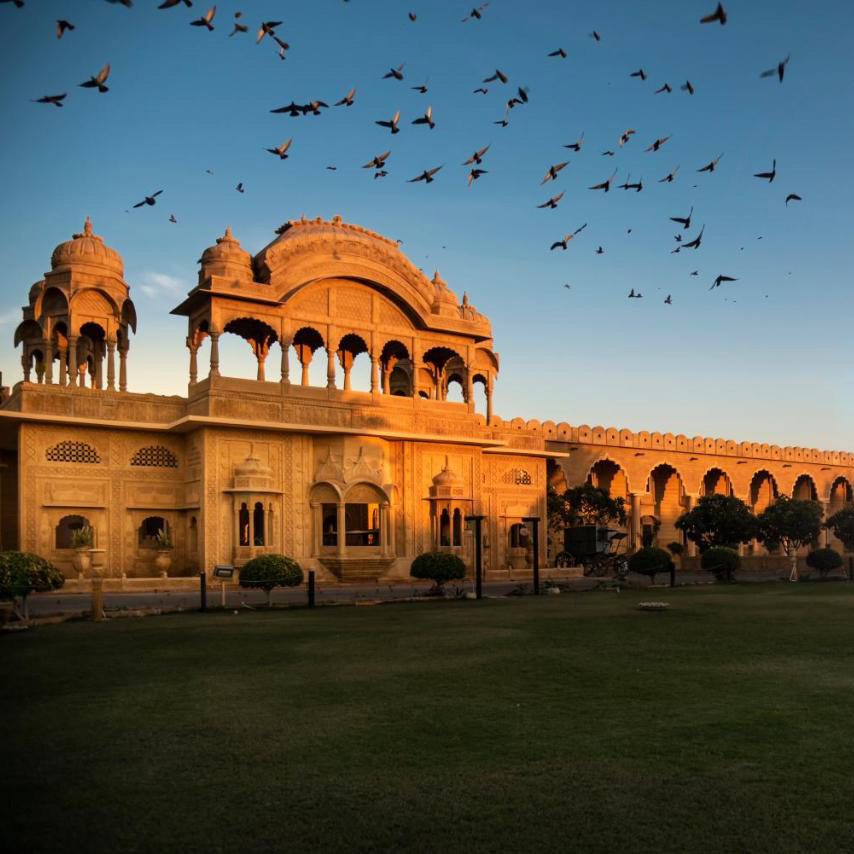 Fort Rajwada
Fort Rajwada in Jaisalmer has been recognized as one of the world's most magnificent wedding destinations. This spectacular fort has stood for hundreds of years, and its arches, turrets, and balconies still serve as an imposing yet elegant backdrop to your big day.
It has more than enough space to give your guests their very own slice of the world's best destination wedding experience.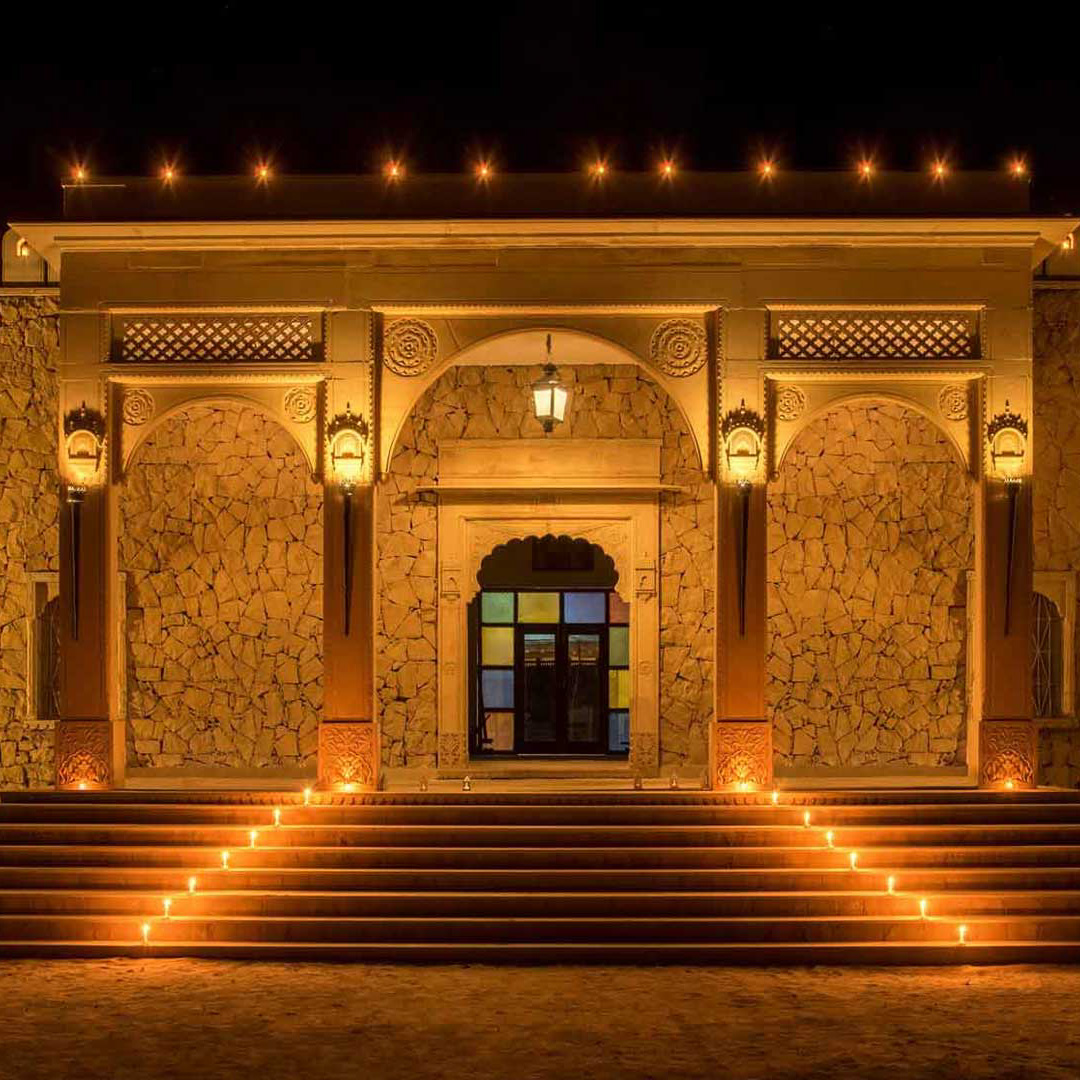 Royal Golden Camp
The Royal Golden Camp, nestled amidst this stunning landscape, combines all the gorgeousness of Jaisalmer with the comforts and luxuries that you'd want on your special day.
The camp consists of several luxury tents and accommodations that are tastefully decorated with traditional Rajasthani art and decor to give you an unforgettable experience during your stay here.
Sairafort Sarovar Portico
Sairafort Sarovar Portico represents the spirit of traditional Rajasthani architecture and showcases the finest workmanship of artisans from the ancient city of Jaisalmer.
It organizes wedding ceremonies, extravagant banquets, and cultural festivals throughout the year. The resort offers one-of-a-kind destination weddings that blend modern charm with traditional Rajasthani culture for couples who want to celebrate their love in style.
Sri Mohan Garh Fort
Sri Mohan Garh Fort is one of the finest heritage hotels in Jaisalmer. It is one of the most sorts after palatial destination wedding venues in Jaisalmer. It offers a vintage wedding venue look, as well as gorgeous spots to take outstanding pictures.
With breathtaking architecture, excellent guest amenities, a wedding at Sri Mohan Garh Fort will be one of the most memorable events of your life.
When is the best time to have your destination wedding in Jaisalmer?
Here's our guide to the best time of year to host a destination wedding in Jaisalmer. The best time to have your destination wedding in Jaisalmer is between October to March. The temperature lies between 10 degrees to 27 degrees Celsius. So spring and winter would be ideal to celebrate your wedding in Jaisalmer.
How can you make sure everything goes smoothly on your big day?
Make sure your wedding in Jaisalmer runs smoothly so you and your partner can relax and enjoy the big day. At first, you should hire a good wedding planner and explain your preferences to him in detail.
Choose a venue that fulfills all your needs. If you have any confusion regarding your wedding day, we would be happy to help you.
What to know before planning a destination wedding in Jaisalmer?
Your wedding day is supposed to be one of the most special days of your life. While weddings are exciting, they can also be stressful to put together. You want everything to go off without a hitch, so it's important to be organized and plan ahead of time.
Appointing a good wedding planner.
Select a venue that is perfect for you.
Mehendi artists, Makeup artists, Hairdressers.
Band and DJ
Hassle-free transportation.
Event organization.
Should you need a wedding planner for your Jaisalmer destination wedding?
Hiring a wedding planner will be the best option for you and your family. We at Rajasthan Wedding Destination specialize in organizing grand destination weddings at several venues in Jaisalmer. Feel free to contact one of our experts and we will take care of every minute detail for a memorable wedding.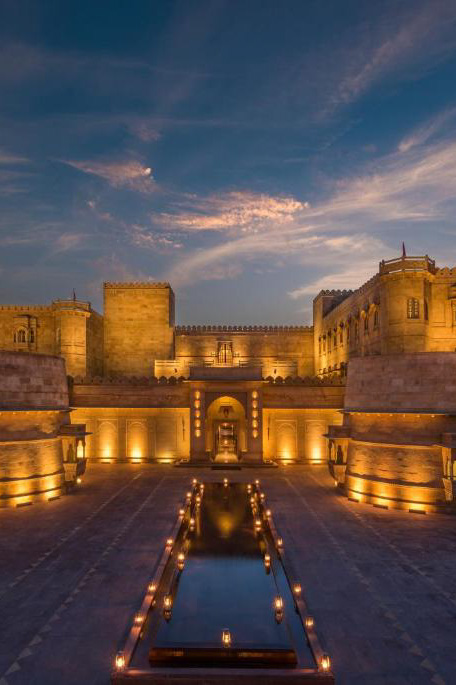 Get a free quote
Our team of experts is at your complete disposal. Get in touch with us today!