Off-Beat destination wedding venues in Rajasthan.
Being India's largest state, Rajasthan has some of the most popular destination wedding venues. But this land of kings has some of the most beautiful off-the-beaten wedding destinations to make your big day an event of a surprise.  
Make your destination wedding in Rajasthan unique with our off-the-beat destination wedding venues 
With their rich heritage and beautiful locations, these off-the-beaten venues make for the perfect setting to tie the knot. Its popularity with couples means you have a variety of venues to choose from the bouquet when you want to plan your destination wedding in Rajasthan.
If you're looking to have an unusual destination wedding venue in Rajasthan, it's time to consider some out-of-the-box ideas.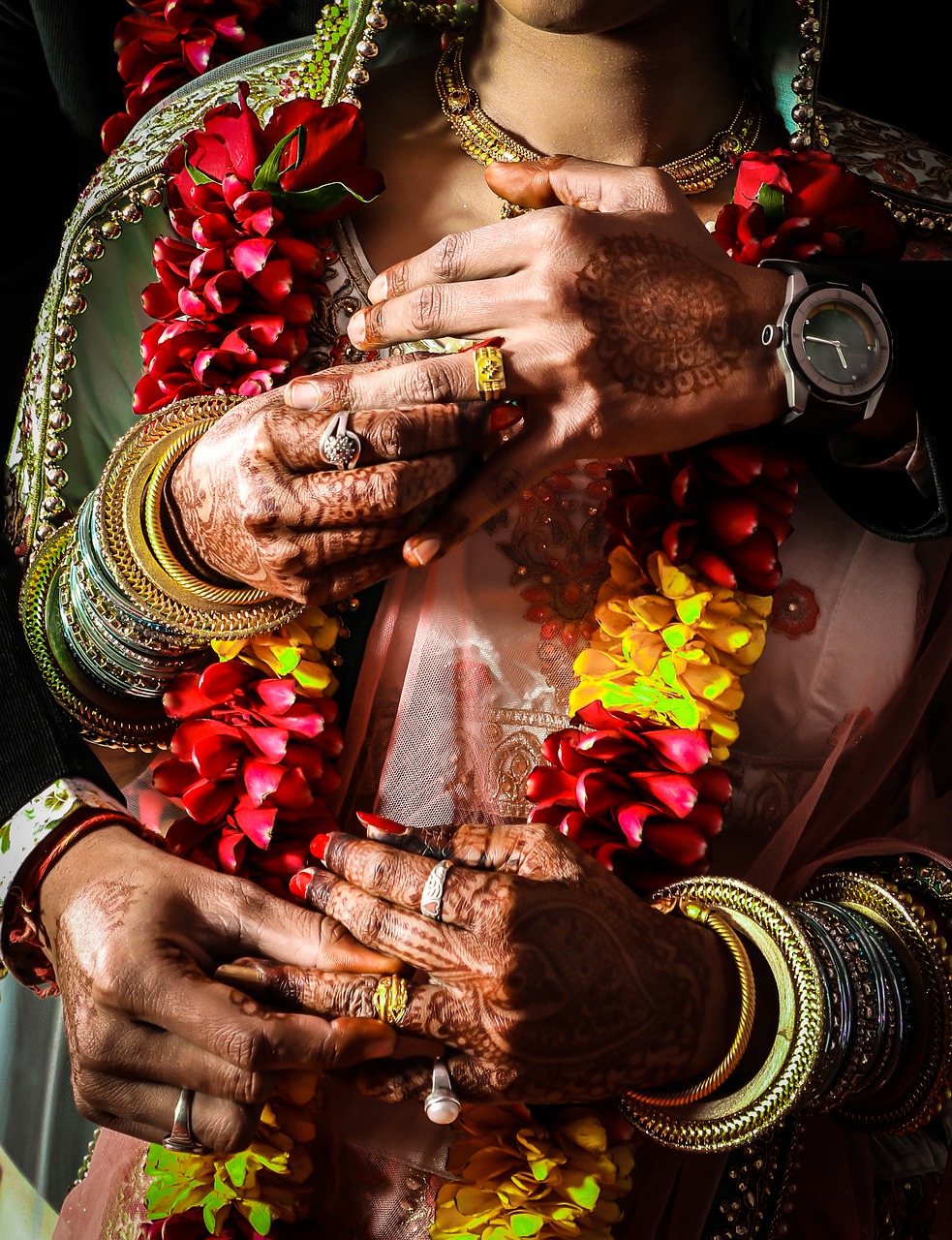 Get an exotic and unique experience!
From extravagant palaces to secluded resorts, there are so many unique options in Rajasthan to make your destination wedding a lifetime event.
Planning the wedding of your dreams can be stressful enough without adding additional pressures like trying to find an offbeat wedding venue. You want someplace that's perfect for you and your partner. So, we have come up with the list of some of the best off-the-beaten destination wedding venues in Rajasthan below here.
Here are 21 unique & off-the-beaten places where you can get married in the land of the Maharajas.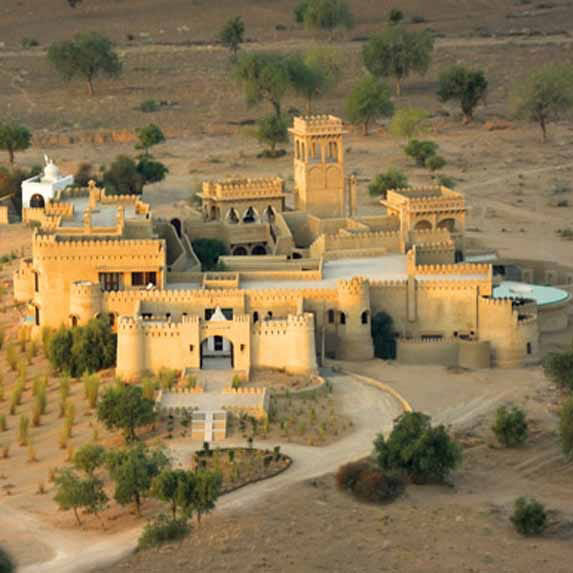 Mihir Garh Resort, Pali
Mihir Garh in Pali, Rajasthan, seems to be an unlikely place to hold an offbeat destination wedding ceremony. It is one such place with stunning views of the Aravali mountain range and the desert landscape – perfect for an offbeat destination wedding. Choosing an offbeat destination wedding at Mihir Garh gives you the chance to have an extraordinary experience for your guests.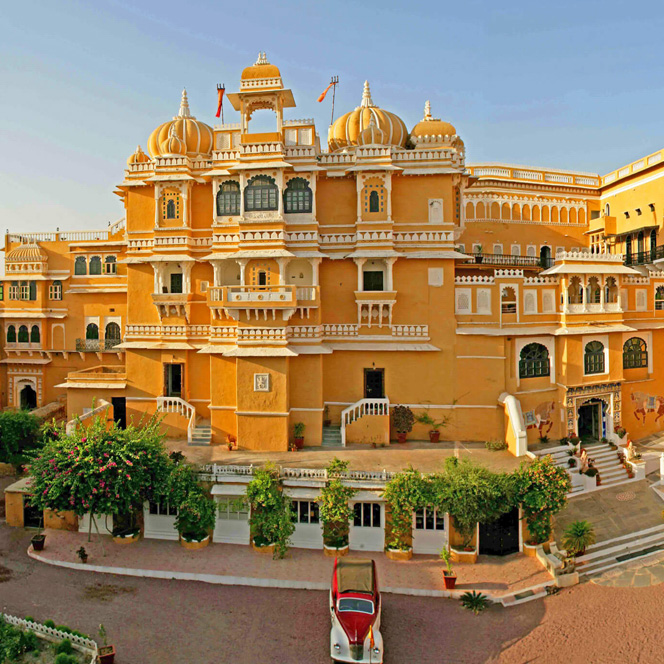 Deogarh Mahal, Rajsamand
Deogarh Mahal in Rajsamand provides the ideal location for an offbeat destination wedding. This gorgeous palace was formerly used as the residence of the royal family and has lots of great features you can use to create your perfect wedding day. Featuring lush gardens and is complete with arched balconies and eye-catching archways.
The Kumbha Bagh, Kumbhalgarh
One of the most unique offbeat wedding destinations you can choose is getting married at the Kumbha Bagh, Kumbhalgarh. It is situated 3500 ft above sea level. The beauty of the architecture and the area around it has made this fort one of the major wedding destinations in Rajasthan.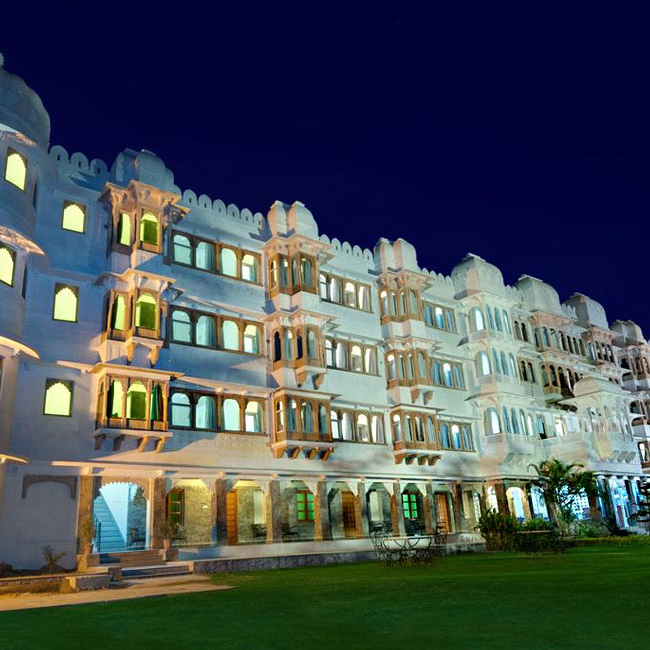 Kanj – The Haveli Resort, Kumbhalgarh
When it comes to destination weddings, couples are always looking for something offbeat, something new and exciting that their guests will never forget. Kanj The Haveli Resort in Rajasthan offers just that with its unique haveli-style architecture and its rustic, laid-back atmosphere that invites everyone to relax and enjoy themselves, regardless of the occasion.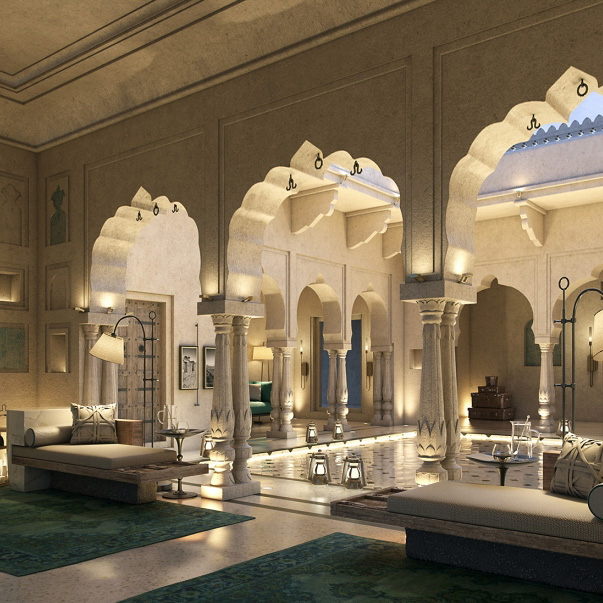 The Six Senses Fort Barwara, Sawai Madhopur
Six Senses Fort Barwara is an award-winning luxury hotel in the pristine wilderness of Sawai Madhopur, Rajasthan. Breathtaking scenery, majestic flora and fauna, and family-friendly activities make this fort the perfect place to tie the knot whether you're envisioning a romantic ceremony on a forested hillside or an epic wedding featuring hundreds of guests.
And how one can forget about the recent celebrity destination wedding of Katrina Kaif & Vicky Kaushal held at Fort Barwara.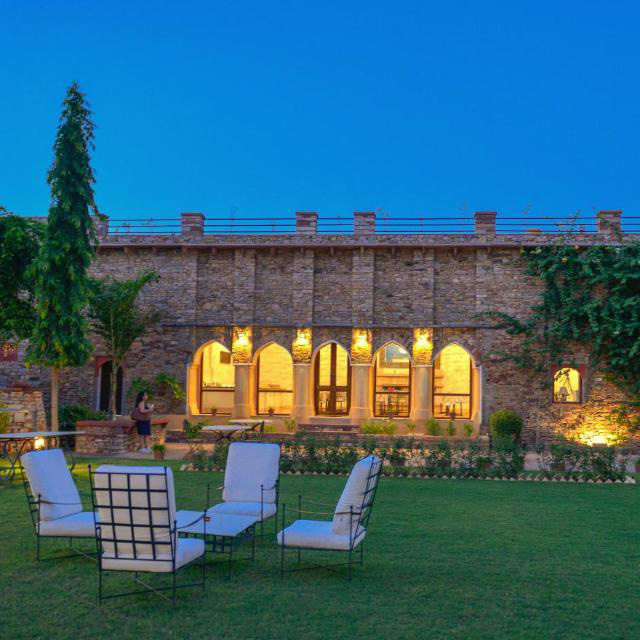 Ramthara Fort, Karauli
If you want to avoid the hustle and bustle of an overcrowded resort and opt for an authentic offbeat destination wedding instead, then the fort of Ramthara in Karauli, Rajasthan, might be just what you're looking for. It offers you an opportunity to experience the best of Rajasthani culture. The fort also includes an open-air dining area and provides an incredible view of the sunset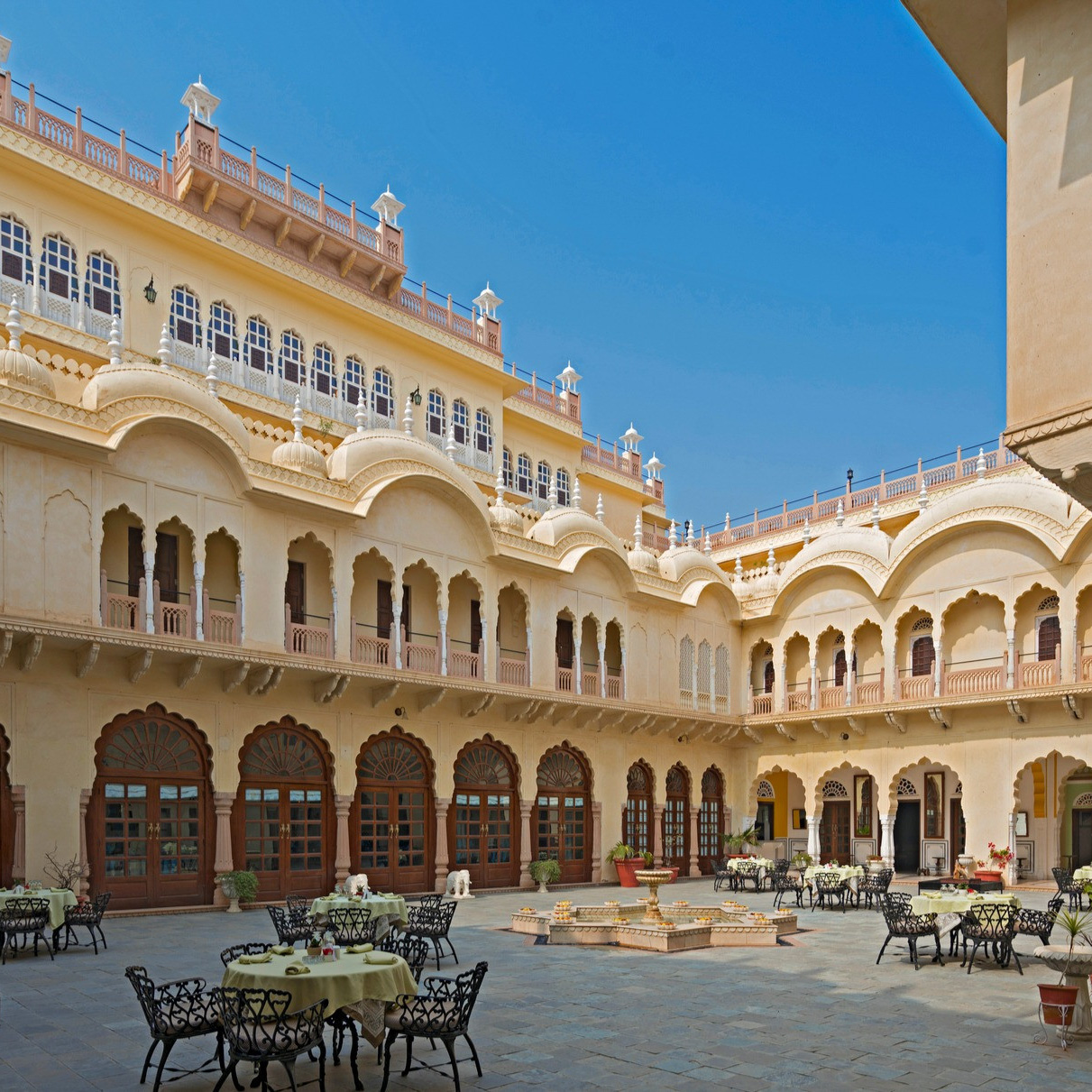 Alsisar Mahal, Jhunjhunu
For couples who are looking to inject some spontaneity into their wedding day, the historic Alsisar Mahal in Jhunjhunu, Rajasthan might be the perfect venue. It was recently restored to its former glory and today serves as a heritage hotel with approx. 51 rooms. This grand property has been welcoming guests since the 17th century from the world over, making it the perfect spot to begin your happily ever after.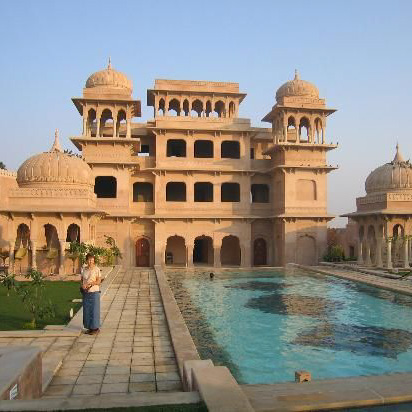 Hotel Castle Mandawa, Mandawa
Hotel Castle, Mandawa offers the experience of a lifetime for those looking to get married in one of the most beautiful palaces in Rajasthan. Located in the middle of the breathtaking desert, it is an opulent place to host your dream destination wedding and give your guests something to remember forever. The unique architecture and ambiance of this hotel coupled with its beautiful and soothing surroundings make it a great choice for your destination wedding.
Shahpura Kumbhal Villas, Kumbhalgarh
Shahpura Kumbhal Villas boasts of an architecture that seamlessly blends the old and the new, creating an alluring fusion that mesmerizes its guests. This luxury boutique hotel offers guests an experience like no other, with its exquisite rooms and timeless hospitality. It features some of the best architecture and amenities any couple could ask for while they get married and celebrate with their family and friends.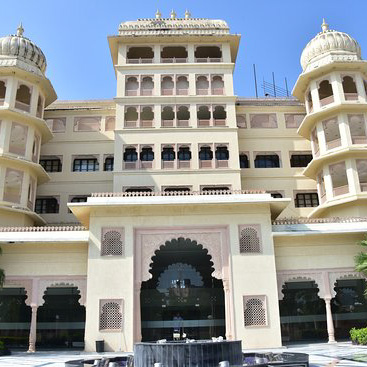 Shree Vallabh Vilas Lords Plaza, Rajsamand
Charm your guests with a destination wedding at Shri Vallabh Vilas Hotel in Rajsamand. With an enticing array of services and attractions, it's the perfect place to have your unique wedding ceremony and celebration. The hotel's beautiful interiors, elegantly furnished rooms, and gorgeous location make it an ideal venue to host your destination wedding, which will be remembered by both you and your guests for years to come.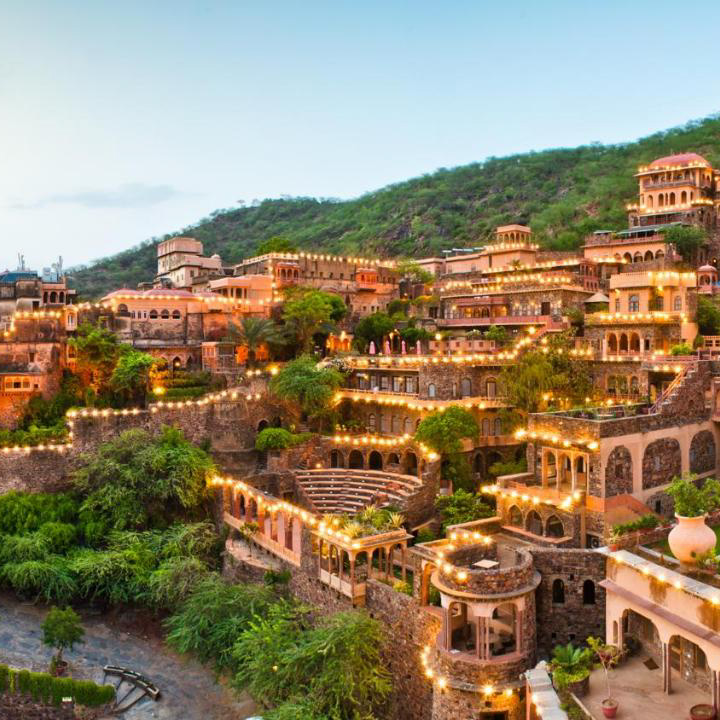 Neemrana Fort Palace, Alwar
Perfectly blending modernity and history, Neemrana Fort combines fairy tale charm with the amenities of the 21st century to create the perfect setting for a royal destination wedding. Add to that the venue's easy access from Delhi via road or rail, as well as its excellent accommodation options including cottages and suites, makes it one of the most unusual wedding destinations in India.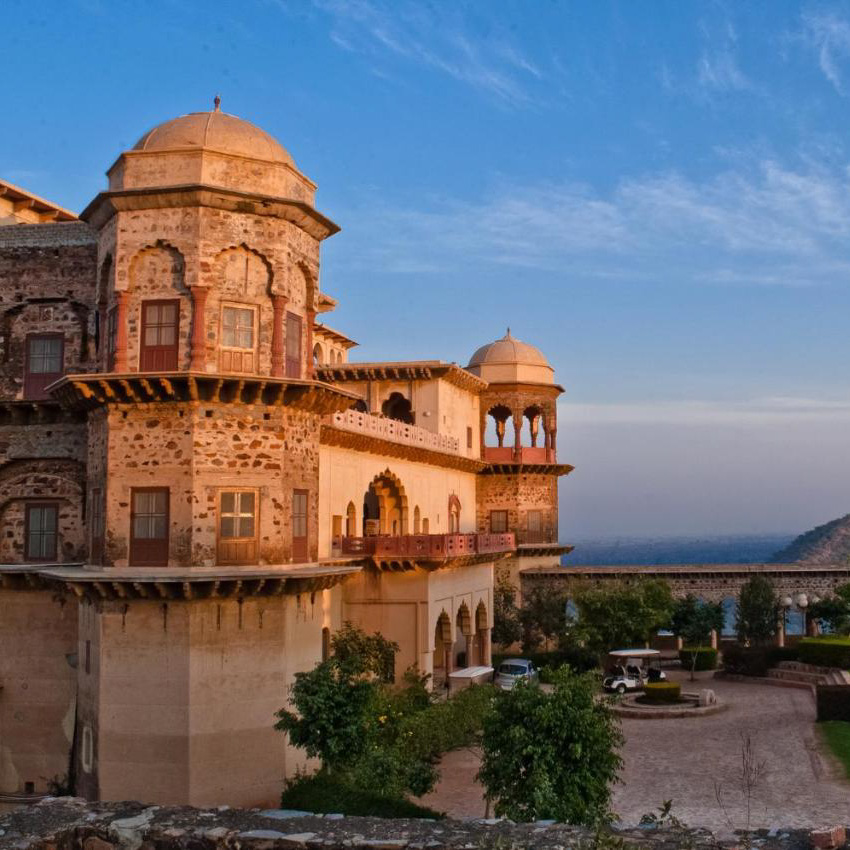 Tijara Fort Palace, Alwar
If you're planning to tie the knot soon, but don't want to fancy a traditional wedding, you might consider an offbeat destination wedding at Tijara Fort, Alwar. It offers couples the perfect backdrop to exchange vows while experiencing unique hospitality. It isn't just about the two of you, it's also about the ambiance, about making your wedding one-of-a-kind, memorable, and special enough to be talked about years later.
Dadhikar Fort, Alwar
The area surrounding Dadhikar Fort, located at Alwar, is beautiful during all seasons and makes an awesome backdrop for couples who want something different from the norm. For an authentic cultural experience that will leave you with great memories of your special day, you can't go wrong with choosing this fort as your wedding venue.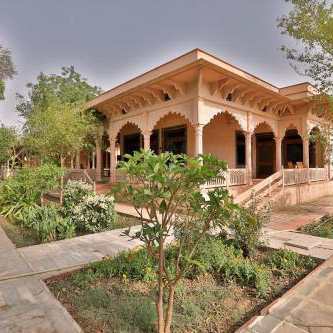 The Bagh Heritage Resort, Bharatpur
Located in the beautiful city of Bharatpur, the Bagh Heritage Resort is surrounded by lush green forests, making it one of the most romantic wedding destinations in Rajasthan. But what makes this destination even more unique is its remarkable architecture and picturesque scenery. Nestled among the reeds and rushes of the nearby Keoladeo National Park, your destination wedding there will truly be unique.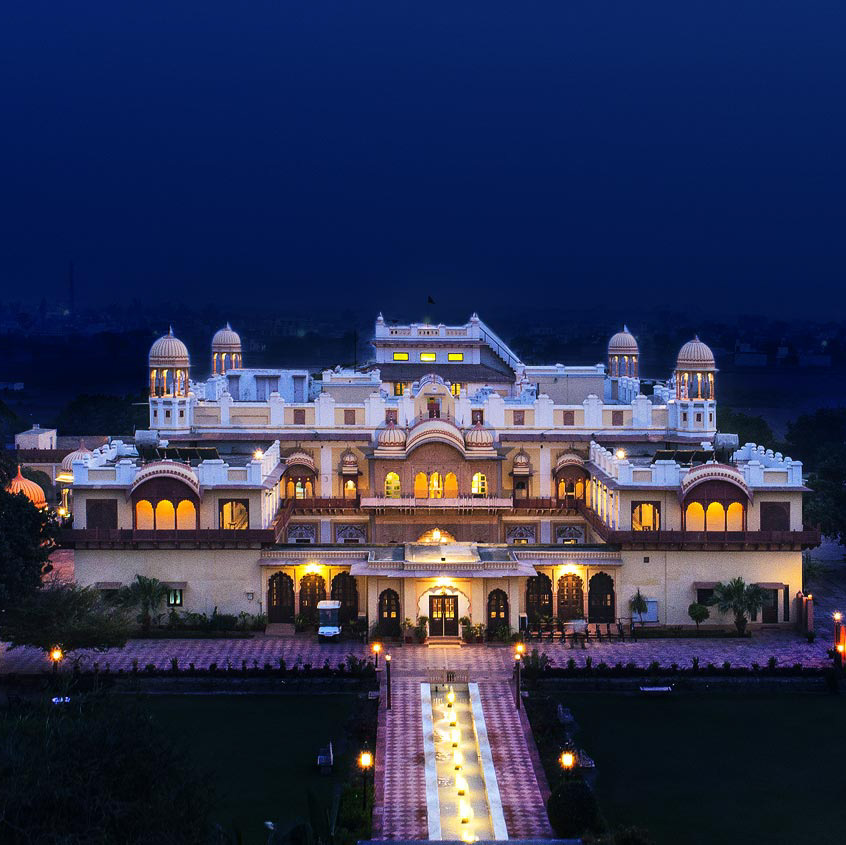 Laxmi Vilas Palace Hotel, Bharatpur
Laxmi Vilas Palace, nestled in the city of Bharatpur in Rajasthan, is an opulent heritage hotel that blends ancient Indian culture with modern luxury and elegance. What makes this hotel so unique is that it's the venue of choice for many destination weddings in Bharatpur. From its plush guest rooms to banquet halls, it has everything you need to host a royal wedding that's as grand as it gets.
Anuraga Palace, Ranthambore
Anuraga Palace is an Indian wedding destination like no other. The regal splendor of this palace in the heart of India's national park makes it one of the most romantic wedding destinations imaginable, with beautiful gardens and towering arches offering a peaceful backdrop to your nuptials. Here, you can wed with all the grandeur and beauty you could wish for, without skimping on comfort and luxury.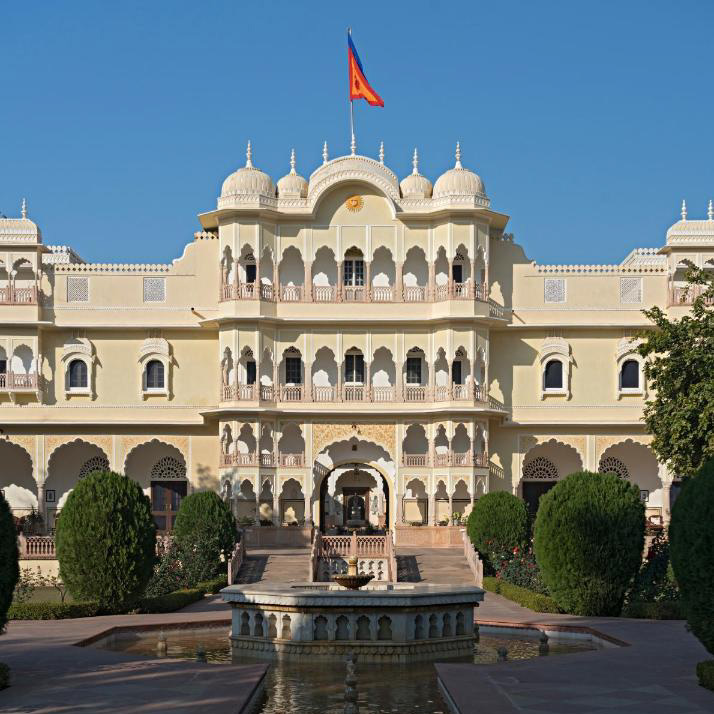 Hotel Nahargarh, Ranthambore
Hotel Nahargarh in Ranthambore is an ideal location for your dream destination wedding. We know how important it is to have the perfect combination of romance and thrill in your big day, and can help you make it happen. When you have your wedding here, you'll have access to all of the fun activities nearby that will make you feel like royalty as well as the personalized attention that makes your nuptials unique to you.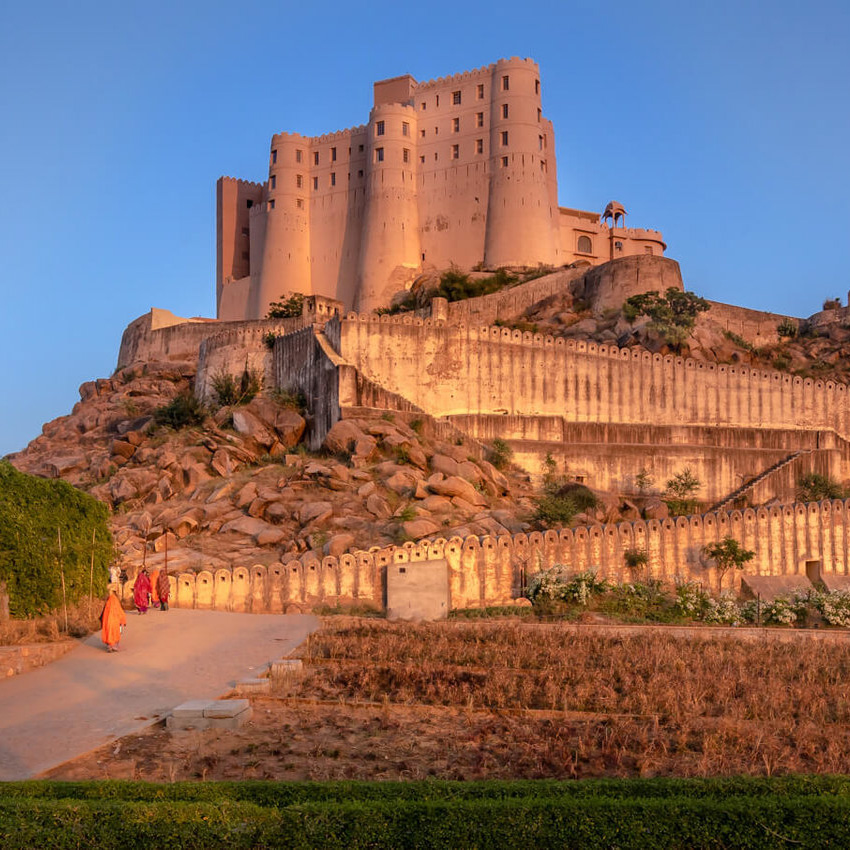 Alila Fort, Bishangarh
If you want an extraordinary wedding experience, head to Alia Fort in Bishangarh, Rajasthan. You'll have the freedom to create the exact look and feel you desire without sacrificing the intimacy of your wedding or the beauty of your location since the fort and its grounds are just large enough to fit a few hundred guests comfortably but not so large that it feels impersonal or overwhelming.
Mishtten Club and Resort, Kota
Mishten Club and Resort provides an idyllic setting that's ideal for couples who want to get married away from the hustle and bustle of Kota city. With its lush greenery, beautiful landscaping, and elegant interiors, it will make your wedding ceremony an occasion to remember. Your guests will be awed by the stunning views and the resort's peaceful ambiance.
Aman-I-Khas, Ranthambore
Tucked away in the Rajasthan hills, the Aman-i-Khas resort in Ranthambore promises to be an amazing destination wedding location that blends tradition with modern luxury. There are numerous options within the venue, whether you're planning a royal affair or hosting something grand with all your friends and family members in attendance.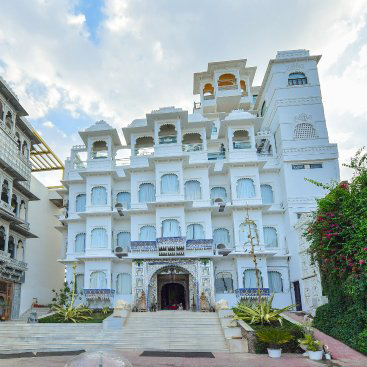 Udai Kothi, Udaipur
Located in the picturesque city of Udaipur, Udaikothi is one of India's most spectacular Rajput palaces, located in the center of Udaipur and overlooking Lake Pichola and the distant Aravalli Hills. It's both beautiful and affordable, making it the perfect choice for couples who want something different without paying exorbitant amounts of money.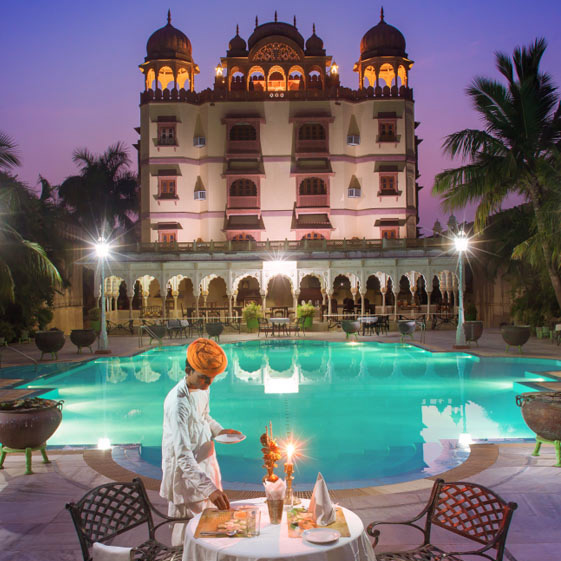 Jagat Singh Palace, Pushkar 
Jagat Singh Palace is one of the most sort-after destination wedding venues in Pushkar. This is one of the oldest luxury hotels in Pushkar. This expansive property can accommodate more than 200 guests at any one time, making it an ideal venue for grand celebrations such as a royal destination wedding.
A destination wedding at Jagat Singh Palace, with a guest list of 150, would cost you between 10 lakhs to 20lakh ₹ for a night, depending upon your preferences.
Why should one opt for an offbeat destination wedding venue in Rajasthan?
Your wedding day is meant to be the best day of your life, so why not make it special in every way possible? One of the easiest ways to do this is to choose an offbeat destination wedding venue in Rajasthan, which will give you and your guests an unparalleled experience that can't be replicated anywhere else.
Rajasthan has so much to offer in terms of culture, food, and experiences that it's the perfect backdrop for an Indian wedding with all the pomp and circumstance you could ask for in a big celebration.
Cost of an offbeat destination wedding in Rajasthan.
The cost of an offbeat destination wedding in Rajasthan can vary depending on where in the state you're getting married, how many guests are attending, and whether you're getting married in the traditional Indian style or the western way.
An offbeat destination wedding in Rajasthan could start from INR 30 lakhs to 1 crore or more.
When is the best time to have your offbeat destination wedding in Rajasthan?
Here you can find an overview of when you should host your offbeat destination wedding. The best time to have your offbeat destination wedding in Rajasthan is from October to March. The temperature lies between 10 degrees to 27 degrees Celsius.
How can you make sure everything goes smoothly on your special day?
We know how exciting it could be to plan your special day, but before you start taking care of all the details and making major decisions.
Choose a venue where you get all the amenities according to your needs and preferences. Appoint a good wedding planner who will help you to plan your wedding day and will take care of all your events.
What to know before planning an offbeat destination wedding in Rajasthan?
Finding the perfect venue and wedding package isn't the only thing you need to do when planning your destination wedding in Rajasthan. You also need to make sure the following things:
Mehendi artists, Makeup artists, Hairdressers.
Band and DJ.
Hassle-free transportation.
Event organization.
Should you need a wedding planner for your offbeat destination wedding in Rajasthan?
Appointing a wedding planner will be the best option for you. We at Rajasthan Wedding Destinations specialize in organizing grand destination weddings at several venues in Rajasthan. Feel free to contact one of our experts and we will take care of every minute detail for a memorable wedding.
Get a free quote
Our team of experts is at your complete disposal. Get in touch with us today!