Destination Wedding at Jai Mahal Palace
A destination wedding at Jai Mahal Palace is no more than a fairy-tale affair. The Jai Mahal Palace, located in the city of Jaipur, is one of the most iconic destination wedding venues in the pink city due to its royal architecture and beautiful & elegant style.  
Inroduction
About a destination wedding at Jai Mahal Palace
A 5-star hotel run by the Taj group of hotels, Jai Mahal Palace's elegant architecture, stunning design, and gorgeous views will help make your wedding unique and unforgettable, with perfect photo opportunities at every turn.
If you're looking to have an intimate, royal destination wedding in a unique place that will give a wow moment to your guests, this luxurious wedding venue in Jaipur may be perfect for you.
Build-in 1745, this palace is both a symbol of royal wealth and opulence as well as an architectural marvel.
It is in the Civil Lines area of Jaipur, close to popular historical sites such as Amber Fort, Hawa Mahal, and City Palace. And approx. 30 minutes away from the Jaipur International Airport.
A destination wedding at Jai Mahal Palace, Jaipur is simply the best way to celebrate love in luxury. It can make anyone fall in love with Indian culture and heritage. This palace is an excellent wedding venue and is also known as the gem of Rajasthan and the epitome of princely luxury.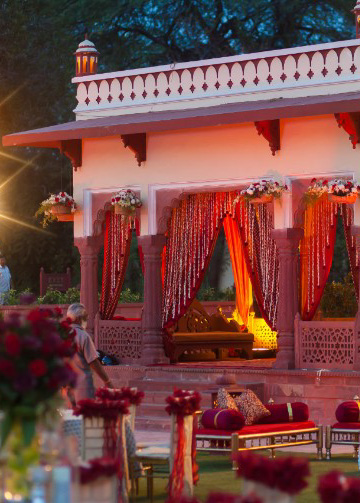 Rooms & Facilities at Jai Mahal Palace
94 rooms and 6 suites
One multicuisine restaurant, one Indian, and one Italian restaurant.
One Bar
Jiva Spa
Swimming Pool 
Fitness center
Mughal Gardens
Courtyards
Outdoor chess with life-size chessmen
Jai Mahal Palace features 94 rooms and 6 suites with mesmerizing views of the city and gardens, 18 acres of landscaped Mughal gardens, a bar, a swimming pool, a Jiva spa, a fitness center, one multicuisine restaurant (Marble Arch), one Indian cuisine restaurant (Cinnamon) and one Italian (Giardino) restaurant.
When it comes to planning your destination wedding at Jai Mahal Palace, you want to be sure that the location you choose will allow you to enjoy your big day with the people that matter most to you.
If you're looking for a romantic setting that will make your guests feel like they've stepped back in time and get them excited about what lies ahead, then Jai Mahal Palace might be just what you're looking for.
This palace has got everything from breathtaking views of the countryside and its many iconic landmarks to all the modern amenities needed to make your event truly unforgettable.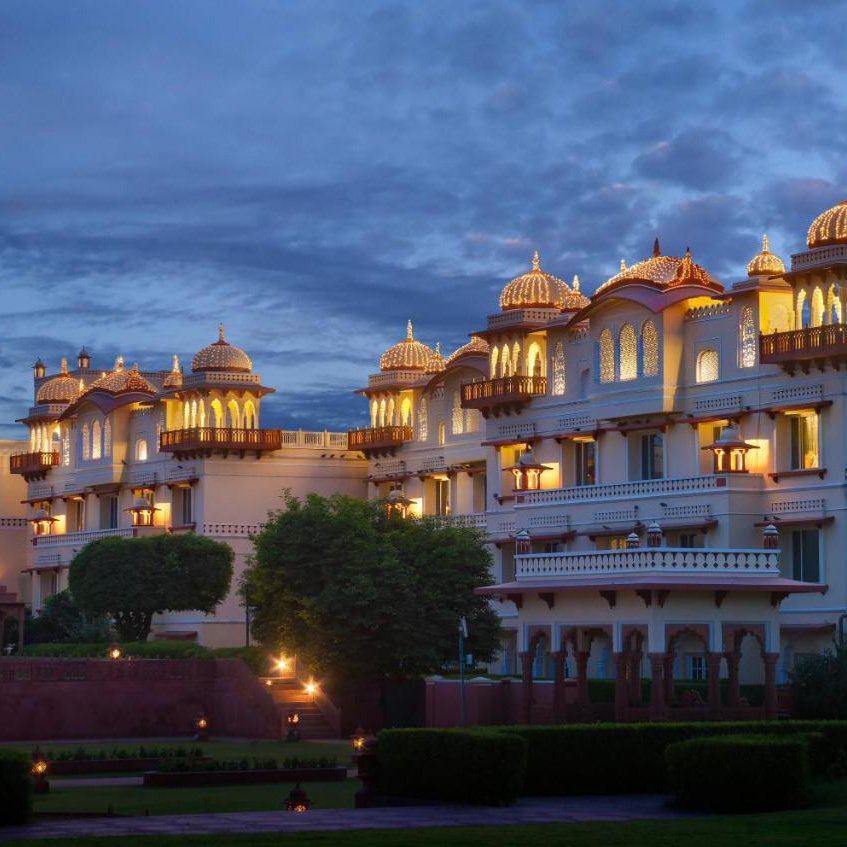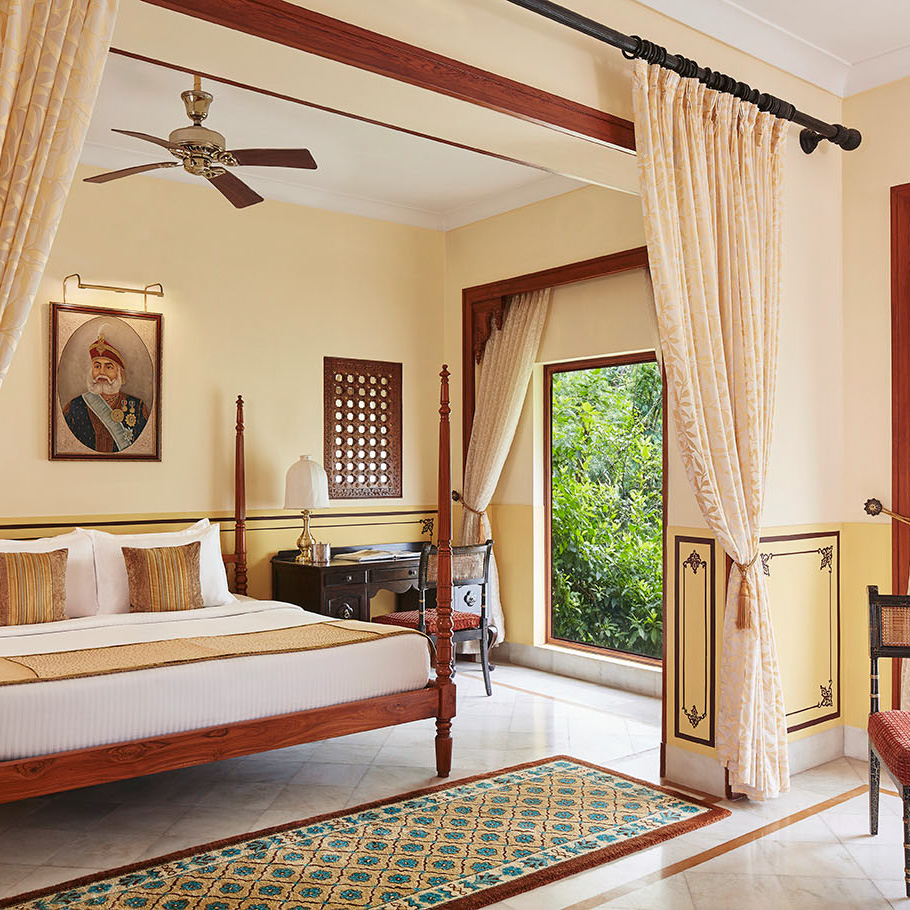 The estimated cost of a destination wedding at Jai Mahal Palace 
A destination wedding at Jai Mahal Palace, Jaipur with 200-250 guests is likely to cost INR 90 lakhs to 1.5 crores.
It's no secret that destination weddings can be expensive, but depending on your preferences, they don't have to be out of reach.
At Jai Mahal Palace if you are planning a destination wedding with 200 to 250 guests, the cost would range between 90lakhs to 1.5 crores with one night stay. For more details and a precise quote, our experts of destination weddings in Rajasthan are at your complete disposal.
Below is an idea of different costs for a destination wedding at Jai Mahal Palace
ACCOMMODATION
A room on average costs around 18000 to 50000 rupees. So, if you are planning your wedding with a guest list of 200, then accommodation only will cost you around INR 25 to 40 lakhs for a night.
CATERING
A lunch at Jai Mahal Palace costs you between 4500 to 5500 rupees and dinner 5500 to 6500 rupees, so for a guest list of 200, the two meals would cost you between 12,00,000 rupees to 15,00,000 rupees.
DECORATION
The decoration is one of the most important parts of a beautiful destination wedding. Décors like pandals, mandap, tables, chairs, centerpieces on tables, stage, dance floor, flower decoration, and lighting would cost Rs. 15 lakhs to Rs 20lakhs.
TRANSPORT AND OTHER EXPENSES
Other than the above expenses, you must consider the transport cost from the airport to the hotel and airport. Other services you must plan for are photography, makeup and mehndi artist, transport, sound and DJ, and folk artists for entertaining the guests, which can make easily up to 10 to 15 lakh rupees.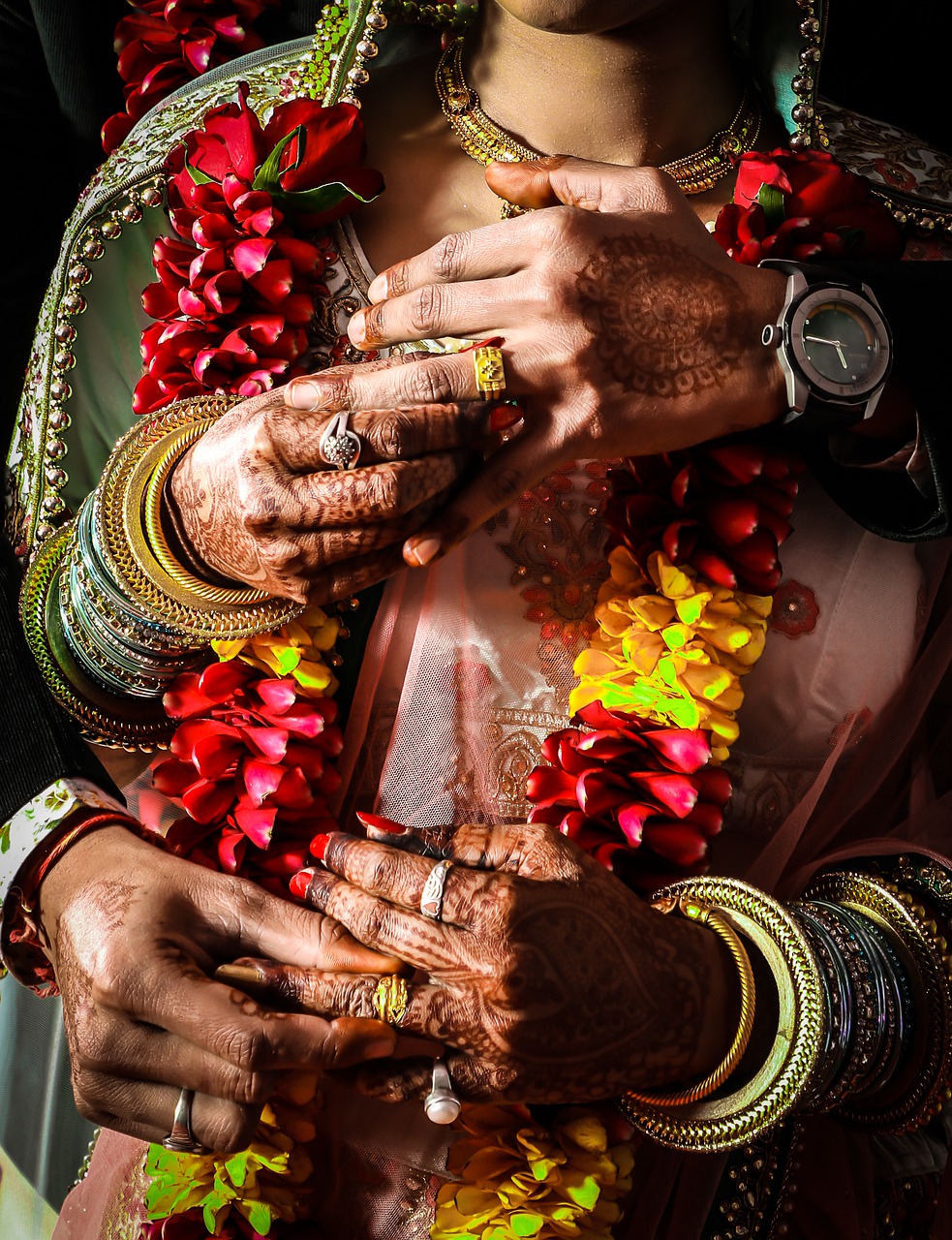 Why choose Jai Mahal Palace as your destination wedding venue in Jaipur?
When you choose Jai Mahal Palace as the site of your destination wedding in Jaipur, you'll enjoy an experience that takes care of every detail of your wedding celebration. The opulent settings, ornate architecture, and royalty-worthy décor make this place a perfect destination wedding venue in Jaipur.
Other Destination Wedding Palaces in Jaipur
DESTINATION WEDDING PACKAGE AT JAI MAHAL PALACE
If you are looking for a package for your destination wedding at Jai Mahal Palace, Jaipur. Get in touch with us and one of our experts will get back to you soon.